IP Targeting And IP Cluster Zone Targeting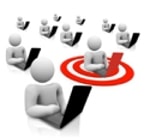 IP Targeting – Matching physical address to IP address.
Many advertisers find their use of direct mail to current and prospective customers a highly effective way to drive engagement with their product or services. Now, advertisers can support and improve their direct marketing programs. By adding IP targeting to marketing efforts. Quite simply, if you have an address list, we can deliver a digital ad message to those specific addresses.
How It Works:
The advertiser provides a list of physical addresses including street, city, state and ZIP code. This can be a pre-existing customer list or a purchased list of the prospects they wish to reach.

We begin the process of matching to the physical mailing address to the corresponding IP address, which is essentially the "mailbox" for a computer.

When a "prospective" customer goes online, ads are directed to their IP address and delivered on the sites they choose to visit. The same ads normally used for display campaigns can be used for IP Targeting.
Key Benefits:
IP addresses are stored on a server, so no cookies are involved, and cookie deletion does not affect the program.
IP is the Web entry point, so you can target both homes and businesses.
Reach your online target 100% of the time, with no "wasted" impressions.
Notify prospective customers of your upcoming mail campaign days or weeks in advance, and follow up the drop with additional messaging.
---
Cluster IP Targeting – Find Your Ideal Audience.

Cluster IP targeting allows advertisers to find and target their ideal audience. Whether targeting by demographic information or building upon an existing list, cluster IP targeting is a great way to advertise to both known and quality prospective customers.

How Does It Work?
We compile public records including U.S. Census, NAICS, SIC, Prizm Cluster, IRS records, voter history, and more to allow us to find the audience that exactly matches the advertiser's target.
We then can target that house or business, as well as the houses which surround it (the "cluster"), which helps target other potential customers.
We also have the opportunity to build a "look-alike" audience off of an existing list to expand the reach.
For more than 40 years, direct marketers have packaged this data into fun, interesting segments that represent the audience targeted.
Key Benefits:
Direct targeted ads to audiences exhibiting specific traits.
Comprehensive pre-sale report defines targets by variables such as location type, social matrix breakdown, income range, home value, discretionary income and more.
More cost-effective than traditional IP targeting or direct mail.
---
We are as excited about growing your business as you are!
Call us today at 814-771-5537 or email info@nittanydigital.com